For the last few weeks, you might have seen me referencing #BN4 on my author page or my personal account. You know I've been writing, you know I'm up to 25k now, but I haven't muttered a peep about what I'm working on.
Until now.
I'm happy to finally announce the title of my current work in progress:
Black Number Four.
I have struggled with telling you about this project because I wanted to make sure I knew how to tell you. It was easy to tell you when I was working on Song Chaser because I just said, "Working on Tanner's story." That's all I had to say, no other explanation was needed.
But with BN4, this is a whole new world – new characters, new places, and new stories. I'm really excited about this one, and I hope you are, too!
Without further nonsense, here is the synopsis for Black Number Four – releasing this spring. (Image is not related to future cover and synopsis is subject to change)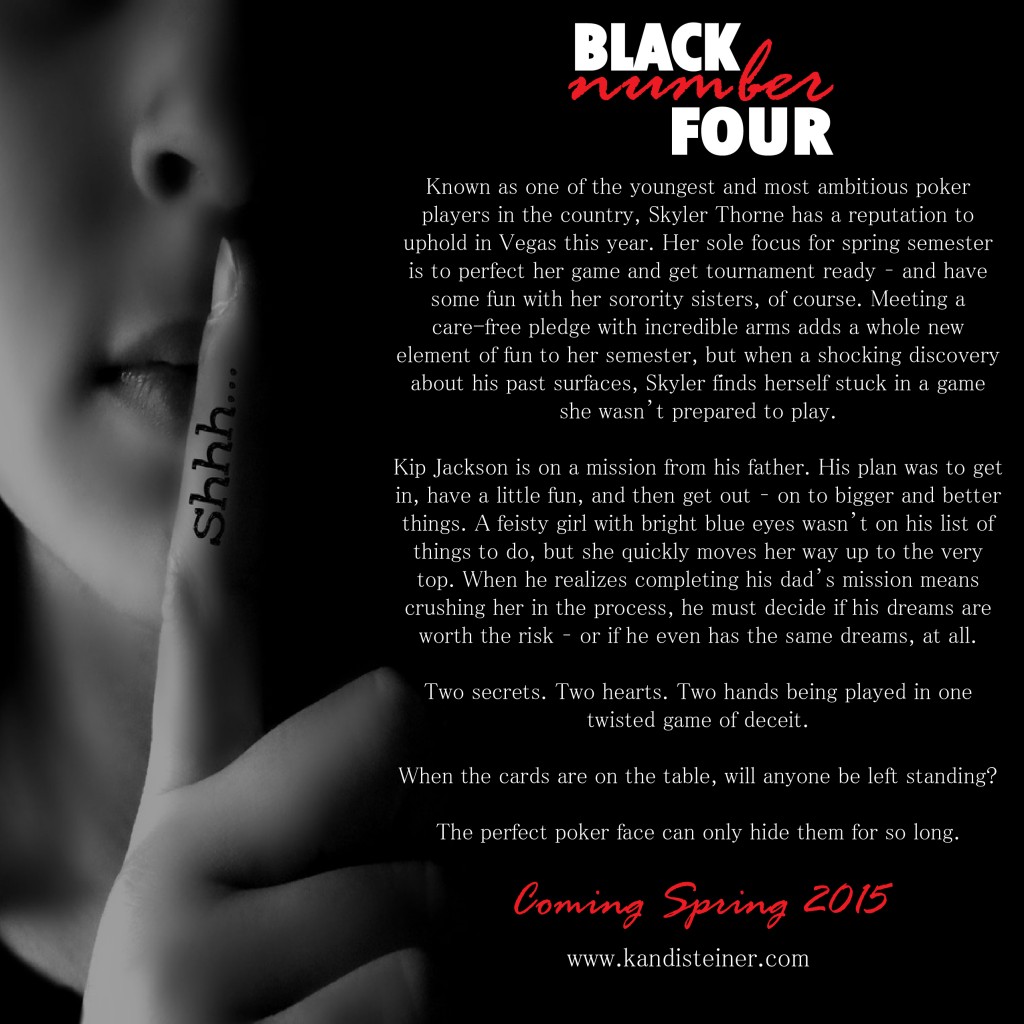 Known as one of the youngest and most ambitious poker players in the country, Skyler Thorne has a reputation to uphold in Vegas this year. Her sole focus for spring semester is to perfect her game and get tournament ready – and have some fun with her sorority sisters, of course. Meeting a care-free pledge with incredible arms adds a whole new element of fun to her semester, but when a shocking discovery about his past surfaces, Skyler finds herself stuck in a game she wasn't prepared to play.
Kip Jackson is on a mission from his father. His plan was to get in, have a little fun, and then get out – on to bigger and better things. A feisty girl with bright blue eyes wasn't on his list of things to do, but she quickly moves her way up to the very top. When he realizes completing his dad's mission means crushing her in the process, he must decide if his dreams are worth the risk – or if he even has the same dreams, at all.
Two secrets. Two hearts. Two hands being played in one twisted game of deceit.
When the cards are on the table, will anyone be left standing?
The perfect poker face can only hide them for so long.
What beta readers are saying about Black Number Four:
"Super fun and entertaining, Kandi delivers another smash with this one." – Cassie Graham, author of Unable to Resist
"I seriously don't want it to stop. Go write… NOW!" – Kellee Fabre
"This book is so HOT!" – Tisha Carter
"Already a fabulous story. I. Need. More!" – Ashlei, The Book Hoarders
"Skyler and Kip sound bad ass! Two secrets, two hearts, two hands….I'm all over this story." – Trish, Schmexy Girl Book Blog
So, are you excited?! Comment below or on my Facebook page with your thoughts. XOXO!
Stay Beautiful,
K.S.