Ahhh I'm SO EXCITED to finally show you all the covers for the What He Doesn't Know Duet — coming THIS MONTH!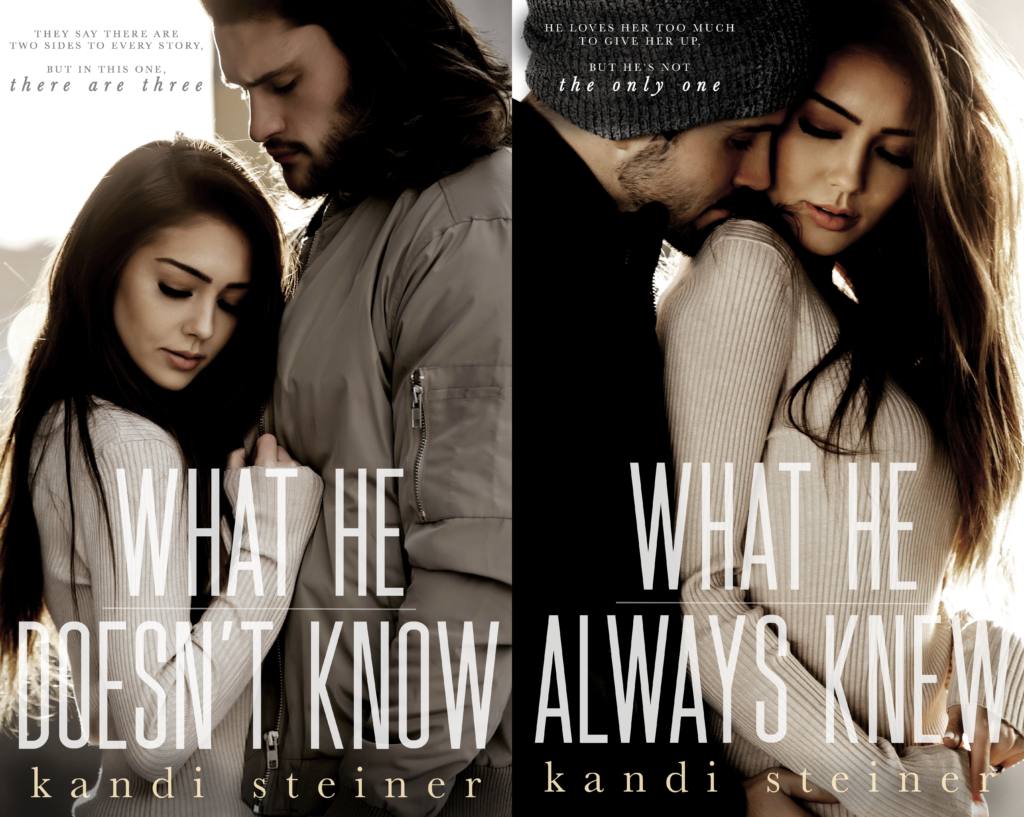 AREN'T THEY SO PRETTY?! *faints*
★ What He Doesn't Know: March 15th
★ What He Always Knew: March 29th
Add to Goodreads:
Book One ➔ bit.ly/WHDKGoodreads
Book Two ➔ bit.ly/WHAKGoodreads
Sign up to receive an email on release day! ➔bit.ly/KandiSteinerNews
#BLOGGERS, LAST CHANCE to request an ARC! ➔ bit.ly/2C21HZt
Here's a little more about the duet…
➔ It's angsty. This is a love triangle, which means you've got to take a leap of faith and let me hold your hand as you jump in. I got you. 

😉
➔ Book two releases just TWO weeks after the first book, so you have time to devour, wait out a little yummy cliffhanger burn, and then itch that scratch with the finale. BOOM!
➔ We've got some second-chance romance going on — in both relationships — and there are some pretty intense emotions. Buckle up, pour the whiskey, and again… TRUST ME. 

:*
————————–———–
What He Doesn't Know (Book 1)
March 15th
On the northeast side of town, there is a house.
The house was once magical, filled with love and joy and plans for the future.
Inside its walls are many things that belong to me — my books, the china from my mother on my wedding day, the beautiful cage once home to two birds, now empty, just like me.
And a man.
A man who also belongs to me.
A man I no longer wish to keep.
A man who, no doubt, has not slept, though the sun is rising. Because the house where he waits is where I laid my head to rest every night for eight years. Until last night.
No one who knows me would believe Charlie Pierce, the quiet, bookish girl who never made waves is pulling out of the driveway of a man who isn't her husband.
But they don't know me at all.
I don't even know me.
Not anymore.
They say there are two sides to every story, and I suppose in most cases, that's true. But the one I live inside of? It has three.
On the northeast side of town, there is a house.
But there is no longer a home.
————————–———–
What He Always Knew (Book 2)
March 29th
Left or right.
It's that simple, and it isn't simple at all.
If I turn left, the road will lead me back to the man I promised my life to, the one I'd imagined building a family with, the one who's done everything in his power to get me back.
If I turn right, the road will take me to the man I loved first, the man who brought me back to life, the man who would do anything to keep me.
I knew the fork in the road was inevitable; it was the decision I never wanted to make between choices I didn't know I had.
And I love them both.
My heart is destined to exist in two equal halves — one with each man. But one half beats stronger, the vein running deepest, and holds my choice in silence long before I know it for myself.
The realization of what I have to do, of the heart I have to break, just might break mine too.
Left or right.
All I have to do is take a breath and turn.