★ Pre-order the paperback for $9.99! ➔ https://amzn.to/2Q9qQ7Z
I highly recommend getting the paperback over the eBook! You'll get the full experience with illustrations and such. ?
★ Get an email on release day by signing up for my newsletter ➔bit.ly/NewsletterKS
★ Add to Goodreads ➔ bit.ly/GWFEgoodreads
This is a book of poetry and prose that we have been working on for more than two years now. There's a lot of heartache in these pages, but there's a lot of joy, too. If you love poetry from poets such as Rupi Kaur, Beau Taplin, Michael Faudet, Lang Leav, and Atticus, then this book is right up your alley. Make sure to add it to Goodreads and sign up for a release alert! ❤
This is the first time B Cherry and I have collaborated, and you guys have been asking for it for YEARS. Now, the only question is… are you ready for it? (T Swift voice) ?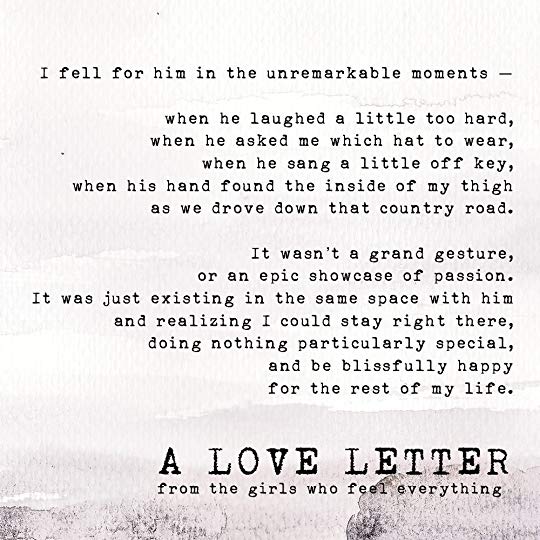 ————————————
A LOVE LETTER
FROM THE GIRLS WHO FEEL EVERYTHING
by Brittainy C. Cherry and Kandi Steiner
Release Date: September 13th, 2018
Bestselling authors Brittainy C. Cherry and Kandi Steiner come together for the first time in an emotional compilation of poetry and prose. Written and collected over the course of more than two years, A Love Letter from the Girls Who Feel Everything is an intimate, honest, and raw assemblage of two women's feelings in a modern world that often quiets any kind of emotion past indifference.
Discussing themes of love, worth, loss and hope, A Love Letter from the Girls Who Feel Everything is a journey of discovery and healing.
"We are the girls who feel everything.
And this is our love letter. To you, to them, to us, to the world, to no one at all. Whether it's the brightest, sunniest day where everything is perfect, or the darkest, dreariest night of rain where life seems unbearable — we have lived it, we have survived it, and we have felt every, blissful, aching second.
Here's to embracing the feels, to the brave souls that listen to the way their hearts beat and aren't afraid to ask someone else if they feel those same beats, too. Here's to the girls, the boys, the love we sometimes share and the love we all-too-often conceal.
And more than anything, Reader — here's to you."