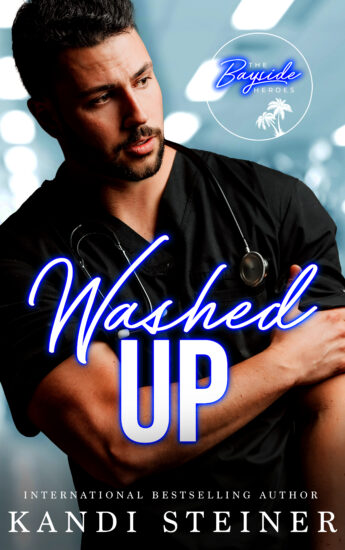 Details
Release Date:

December 6, 2021

Format(s):

Paperback

eBook

Audio Book

You'll Love This If You Love:


medical romance, angst, slow burn, age gap, older woman younger man, cougar romance
Washed Up
It was just another day in the Emergency Department — until she was wheeled in through the doors.
Amanda Parks, my childhood best friend's mom who I may or may not have secretly kissed before leaving for college.
I haven't seen her in over a decade, and in so many ways, she hasn't changed.
Same killer curves.
Same hypnotizing eyes.
Same reaction from my heart when I see her.
But something new?
There isn't a ring on her finger anymore…
And I'm much more of a man than I was at eighteen.
"This book is sexy, it's funny, it's inspirational, and so SO GOOD!!! It's How Stella Got Her Groove Back, but with the BEST HEA. You're going to LOVE IT so much."

— USA Today Bestselling Author Tia Louise
"If you've never read a Kandi Steiner book, the most important thing you have to know is that it will change your view of the genre completely."

— Natalia, ARC Recipient
"Washed Upis emotional, romantic, and hopeful. It's a story about new beginnings, second chances, and true love."

— Angela's Book Addiction