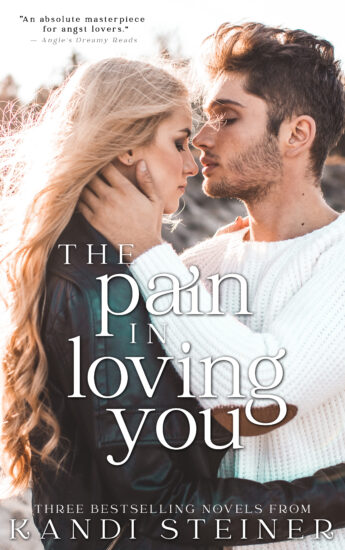 Details
Release Date:

January 13, 2021

Format(s):

Paperback

eBook

Audio Book

You'll Love This If You Love:


angst, small town romance, friends-to-lovers, enemies-to-lovers, interracial romance, romantic mystery, romantic suspense, summer romance
The Pain in Loving You
A longing look across the room. A forbidden touch in the dark. A love that hurts… in the best way.
From bestselling author Kandi Steiner comes an angsty collection of three gut-wrenching, heart-stopping romances that will have you on the edge of your seat from the first hitched breath until the very last kiss.
For those who like a little pain with their hearts and flowers…
Included in the collection:
Weightless
Young Natalie finds self-love and romance with her personal trainer, along with a slew of secrets that tie them together in ways she never thought possible.
A Love Letter to Whiskey
An achingly poignant rollercoaster romance between two lovers fighting the curse of bad timing.
Make Me Hate You
Jasmine has been avoiding her best friend's brother for years. But when they're forced to be in the same house for a wedding, she remembers just how thin the line is between love and hate.
"Kandi Steiner takes words and creates magic. A million stars aren't enough. Weightless left me breathless."

— Brittainy C. Cherry, Amazon #1 Bestselling Author
"A Love Letter to Whiskey will get you drunk on feels. Wildly intoxicating, I could not put it down. An absolute masterpiece for angst lovers."

— Angie, Angie's Dreamy Reads
"Nobody can stir up frustration, angst, and emotion quite like Kandi Steiner."

— Author Kristen Granata