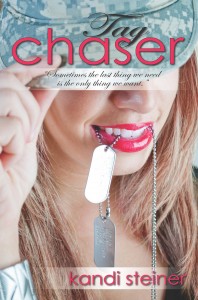 Details
Series:

Chaser

Release Date:

October 13, 2013

Format(s):

Paperback

eBook

You'll Love This If You Love:


insta-love, new adult romance, military romance, romantic comedy
Tag Chaser
Paisley Bronson is a 27 year old successful advertising professional, but the most exciting part of her life happens outside of work. Claiming the life of a Tag Chaser toward the end of her college career has taught her one thing: Never get too close. She has enjoyed her dating lifestyle, but when her best friend makes a bet that she won't ever be able to date a normal guy, her competitive nature takes control and she vows to change the game.
When Paisley meets the incredibly handsome and practically perfect Corbin Ray, she begins to think keeping her word might be easier than she thought. But when an accidental discovery reveals that Corbin is in the Army, she knows she must run the other way and never look back. Although it kills her, she aims to move on and look for a new prospect.
There's just one small problem.
Paisley's been assigned a new client at work, and his name is Corbin Ray.
Will Paisley and Corbin give in to the chemistry between them, or will their past and present complications keep them apart?
Fall in love with this fun and irresistibly naughty game of cat and mouse.
Tag Chaser is exclusive to Amazon and available in Kindle Unlimited.
Tag Chaser is a plot line I've never read before, and I've read A LOT of books. Kandi's writing is fresh, clear and down right hilarious. She has a way of making the characters come to life, almost living outside the pages.

–– Cassie Graham, author of The Truth of a Liar
Wow! Where do I start? This book in some ways was different than anything I've ever read! But at the core of it was an amazing story about breaking down your walls from your past and letting someone love you completely!

–– The Book Hoarders
[Tag Chaser] is funny when it wants to be, serious when it needs to be and sexy pretty much the whole damn time.

— Amazon reviewer