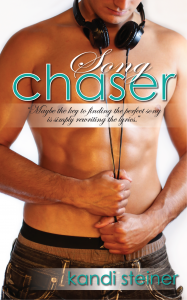 Details
Series:

Chaser

Release Date:

June 29, 2014

Format(s):

Paperback

eBook

You'll Love This If You Love:


angst, unrequited love, friends-to-lovers, new adult romance, college romance, romantic comedy
Song Chaser
For more than a year, Tanner West has tried to shake his feelings for his long time best friend, Paisley Bronson. She was the perfect girl to fit the lyrics in all his favorite songs – the girl he had always wanted. When she fell in love with another man before Tanner had the chance to tell her how he felt, he was left with no resolve to find love again. Burying himself in school and easy girls has become his new lifestyle, but when Kellee Brooks shows up at his favorite bar, he begins to think there may be another verse to his song, after all.
Kellee Brooks moved to New York City for one thing: escape. Growing up in a small town where her entire life was planned out for her, she's desperate to break free and find herself without following the same path as her mom. Kellee thought working at the local dive bar would mean more money for school, but when she meets the smoldering, scarred honey eyes of Tanner West, she finds there's much more hiding in the smoky building than just a few tips.
With Paisley still haunting Tanner and Kellee vowing to save anyone the trouble of loving her, will the pain and fear keep them apart – or will they find a way to rewrite their song together?
Break free with this heartbreaking story of letting go and letting love in.
Song Chaser is exclusive to Amazon and available in Kindle Unlimited.
Oh this book…it had me tearing up in the prologue! When a book can grab you right away like that, from the very first few little words – you know its going to be an exceptional read. Kandi Steiner…wow. Just wow.

–– Cassia Brightmore, author of The Darkness Series
Wow. That's the only word running through my head right now. This book is easily in my top five for 2014.

–– Maegan Abel, author of The Broken Series
Song Chaser was heartbreaking and heartwarming all rolled into one. It is most definitely a ride, but one you don't want to miss out on!

–– Prisoners of Print