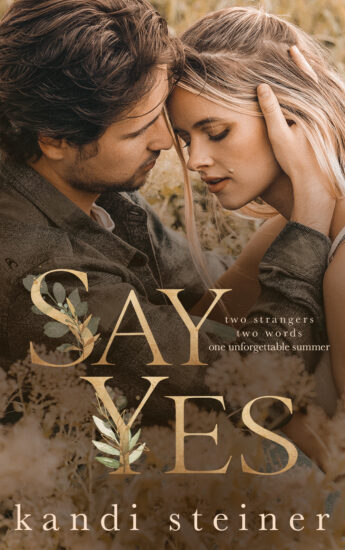 Details
Release Date:

June 24, 2021

Format(s):

Paperback

eBook

Audio Book

You'll Love This If You Love:


travel, study abroad, college/new adult romance, enemies-to-lovers, emotional rollercoaster, angst, 90s, nostalgia, summer romance, broody hero, strong heroine, disabled heroine
Say Yes
Two strangers.
Two words.
One unforgettable summer…
When you're an artist, everything has to be perfect.
Or so I thought, until my professor told me my perfection was boring and unoriginal. Studying abroad in Florence has taught me one thing: I know nothing when it comes to what makes art truly beautiful.
So, with my professor's words in my ear, I step outside one evening and decide to say yes to any and everything I'm faced with until the sun rises.
Of course, I didn't expect him to show up.
Liam Benson, the broody, sexy, tortured artist from my class who I can't stand. He's got a sour outlook on the world and an ego so big no one could properly stroke it to his satisfaction.
When he finds out what I'm doing, he hijacks my "yes" night.
And after just twelve hours with him, I'm desperate for more.
But Liam is running from more than I could ever understand, and with his heart guarded and mind made up about life, I don't stand a chance.
I convince myself that we can keep it casual.
But walking away from him at the end of the summer is as impossible as painting outside the lines.
I used to think when you're an artist, everything has to be perfect.
Turns out everything has to be painful, and messy, and fleeting.
If only I'd known that before I fell under Liam Benson's spell.
Sweet, nostalgic and artfully written, Say Yes has stolen my heart and touched my soul.

— Stital, goodreads
5 stars for this captivating read that left me speechless.

— Norma, goodreads
I can't quite put into words the literary genius of this book. Truly beautiful!

— Lisa Icard, goodreads