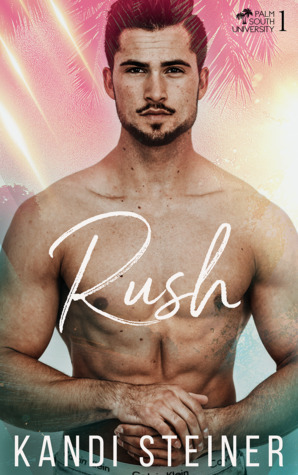 Details
Series:

Palm South University

Release Date:

June 29, 2018

Format(s):

Paperback

eBook

You'll Love This If You Love:


college romance, new adult romance, teacher/student romance, angst, friends-to-lovers, love triangles, bi-sexual romance, drama
Rush
Drama. Lies. Sex. Welcome to Palm South University.
At a college in sunny South Florida, the weather is hot, and the guys are hotter.
Cassie McBee is a freshman, brand new to campus, and it doesn't take her long to figure out that the rules are only set to be broken at PSU.
A pre-med bio major, she's got more important things to worry about than joining a sorority or partying at fraternity houses. But her best friend is rushing, and when she tags along, she discovers there's more to Greek life than she thought.
And when she meets Adam Brooks, the sexy soon-to-be president of Alpha Sigma, she kisses her heart goodbye right there on the spot.
There's just one small problem.
Adam is dating Skyler, Cassie's new Big in Kappa Kappa Beta.
And if you think that sounds like trouble, just wait until you meet the rest of the crew.
Written like your favorite drama television show, the Palm South University series has been called "a mix of Greek meets Gossip Girl with a dash of Friends." Follow seven college students as they maneuver unrequited love, teacher/student romance, the tangles of "no strings" relationships, love triangles and more. Each "season" has six "episodes," and just like when your favorite show hits Netflix, you can read just one episode at a time or binge the entire thing. With the perfect mix of angst, emotional romance, and romantic comedy, the Palm South University series is your next guilty addiction.
If Gossip Girl and Riverdale had a love child, it would be PSU.

— #1 NYT Bestselling Author Rachel Van Dyken
Love, sex, drama, and friendship — PSU has it all, and it's the best kind of addiction.

— Bestselling Author Staci Hart
A nonstop roller coaster of intensity! PSU is the ride you never want to end. Anything Steiner writes, I'm reading.

— Amazon #1 Bestselling Author, Brittainy C.Cherry