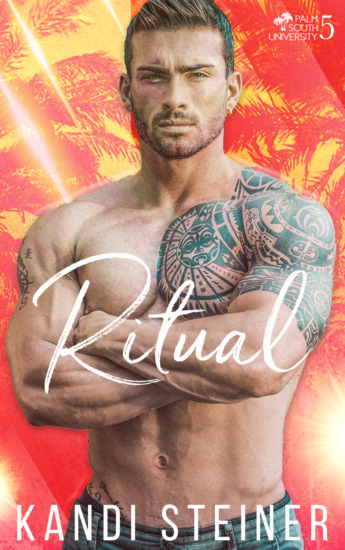 Details
Series:

Palm South University

Release Date:

July 30, 2020

Format(s):

Paperback

eBook

You'll Love This If You Love:


college romance, new adult romance, angst, drama, guilty pleasures, bisexual romance, friends-to-lovers, love triangles
Ritual
A new year at Palm South University means new classes, new chances at love, and of course, new fresh-off-the-grill drama.
Cassie faces a ghost from her past in her new Genetics class while Adam fights for his brothers' respect as second-term president. Jess has some fun with her latest distraction, Erin discovers an unexpected friend at therapy, Ashlei deals with a threatening new intern and Skyler balances her new job with her new long-distance relationship.
Bear finds himself lost after the bomb drop last semester, and when an unexpected blast from the past shows up at the end of the semester, he won't be the only one.
Written like your favorite drama television show, the Palm South University series has been called "a mix of Greek meets Gossip Girl with a dash of Friends." Follow seven college students as they maneuver unrequited love, teacher/student romance, the tangles of "no strings" relationships, love triangles and more. Each "season" has six "episodes," and just like when your favorite show hits Netflix, you can read just one episode at a time or binge the entire thing. With the perfect mix of angst, emotional romance, and romantic comedy, the Palm South University series is your next guilty addiction.
This may just be the most addicting series I've ever read.

— J.S. Wood
PSU is the BEST college series. EVER! Hands down. What I just read made my head spin! Just when I thought I could be wow'd as much as I have been, Kandi literally made my jaw drop.

— Trish Mint, Goodreads
This series just keeps getting better and better, just when you think you know what is going to happen, BOOM you are thrown into another direction.

— Jan Cassi, Goodreads