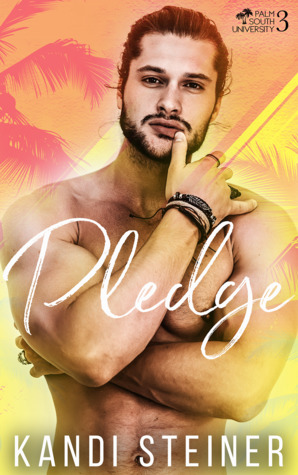 Details
Series:

Palm South University

Release Date:

June 29, 2018

Format(s):

Paperback

eBook

You'll Love This If You Love:


college romance, new adult romance, angst, love triangles, office romance, CEO/intern romance
Pledge
It's a new year at Palm South University, and a new chapter for Cassie — who's excited to take her relationship with Grayson to the next level. But when he asks her to make an impossible choice between him and Adam, loyalty will be tested, and hearts will be broken.
Meanwhile, Jess fights growing frustrations with a long-distance relationship, Erin tries to heal on her own, Skyler searches for what's next in her poker career and Bear is on the hunt for a new distraction.
As for Ashlei? She's finally free from the drama and ready to start anew at her internship. When she realizes there's more than just a professional relationship brewing between her and her too-hot-to-be-real CEO, she'll do everything to shut it down.
But Mr. Church can be very persuasive.
Written like your favorite drama television show, the Palm South University series has been called "a mix of Greek meets Gossip Girl with a dash of Friends." Follow seven college students as they maneuver unrequited love, teacher/student romance, the tangles of "no strings" relationships, love triangles and more. Each "season" has six "episodes," and just like when your favorite show hits Netflix, you can read just one episode at a time or binge the entire thing. With the perfect mix of angst, emotional romance, and romantic comedy, the Palm South University series is your next guilty addiction.
Absolute summer reading perfection. I cannot get enough of PSU!

— Bestselling Author Staci Hart
Hello, Season 3! Once again Kandi has delivered a throughly entertaining season that kept me on my toes and swiping through the pages. From the angst, to the drama, and ultimately the friendships… I could not get enough. I love these characters and can't wait for next semester!

— Author Kathryn Andrews
PSU is a must for New Adult romance lovers. I desperately want this series to come to life on my small screen (TV or computer.) Passionflix, do you hear me?!?!

— BFF Book Blog