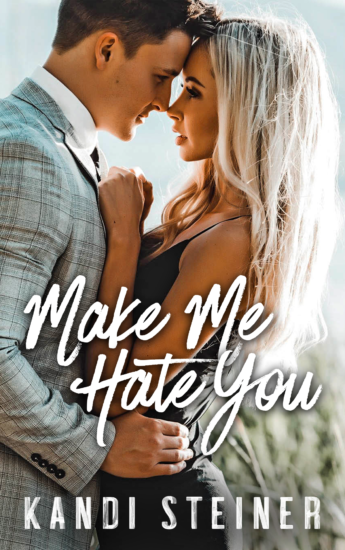 Details
Release Date:

June 25, 2020

Format(s):

Paperback

eBook

You'll Love This If You Love:


angst, best friend's brother, second-chance romance, small town romance, new england, weddings
Make Me Hate You
If he kisses me right now, I'll drown.
Every sip of air is shallow and burning, because in the arms of my best friend's brother, I'm the closest I've ever been to sin.
His eyes flick to my lips, and I remember the first time I tasted him, seven years ago before I left this town and vowed never to return. His hands grip my waist, and I remember the pain when he rejected me, when my entire world crashed down at his command. His jaw clenches, and my senses come alive with one stinging reminder.
I'm not his to kiss, and he's not mine.
I tried to stay away from Tyler Wagner, putting an entire country between us. But when his sister's wedding brings us back to the same town, to the same house, I can't avoid him, no matter how hard I try.
He's always there, his dark eyes bewitching, luring me into their depths. The memory of us pulls me under like a rip current, and when he flashes that smile, I lose my breath, along with my will, unable to escape his grip and find the surface.
Now, hours before our plus ones arrive for the wedding, I'm in his arms, begging him to make me hate him, knowing he never could.
If he kisses me right now, I'll drown.
And I'll take him down with me.
This is a return to the Kandi Steiner of 2016 who brought us Weightless and A Love Letter to Whiskey. Prepare for the burn.

Author Sarah E. Green
Nobody can stir up frustration, angst, and emotion quite like Kandi Steiner.

Author Kristen Granata
This is hands down a SUMMER MUST READ! Angsty, intense, full of squeeze-your-heart-out feels and all the sizzling tension and steam. Kandi Steiner delivers one unputdownable romance! I LOVED every word.

Angie, Angie's Dreamy Reads