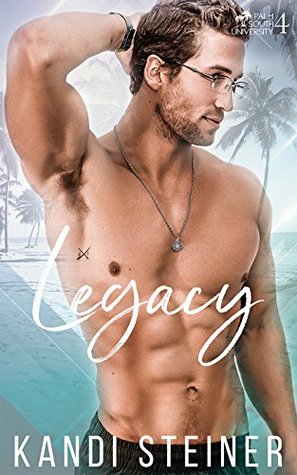 Details
Series:

Palm South University

Release Date:

July 26, 2018

Format(s):

Paperback

eBook

You'll Love This If You Love:


college romance, new adult romance, angst, sports romance
Legacy
Spring Break is on the horizon, and if the PSU crew thought last year was crazy, they have no idea what's in store for them this time.
Adam and Cassie face a whole new set of challenges that will define their relationship once and for all. Ashlei makes an enemy at her internship that could cost her everything. Bear tries online dating while Jess looks for a distraction from her heartbreak.
Erin finally finds someone she wants to fall into. The problem? Skyler had her tongue down his throat before Erin even knew he was on campus.
More secrets. More lies. One explosive Spring Break that will change everything. Buckle up for another semester at Palm South University.
Written like your favorite drama television show, the Palm South University series has been called "a mix of Greek meets Gossip Girl with a dash of Friends." Follow seven college students as they maneuver unrequited love, teacher/student romance, the tangles of "no strings" relationships, love triangles and more. Each "season" has six "episodes," and just like when your favorite show hits Netflix, you can read just one episode at a time or binge the entire thing. With the perfect mix of angst, emotional romance, and romantic comedy, the Palm South University series is your next guilty addiction.
PSU is the BEST college series. EVER! Hands down. What I just read, made my head spin! Just when I thought I could be wow'd as much as I have been, Kandi just literally made my jaw drop.

— Trish Mint, Vine Voice on Amazon
I am hooked on this series! The drama, the hookups, the breakups… I can't get enough!

— Ashley Stephens, Amazon Reviewer
Kandi really put us through it with this season. It was a serious emotional roller coaster from start to end. We've been following these characters for 2 years of their college careers at this point and I never want to let them go.

— Claudia, Drunk on a Book