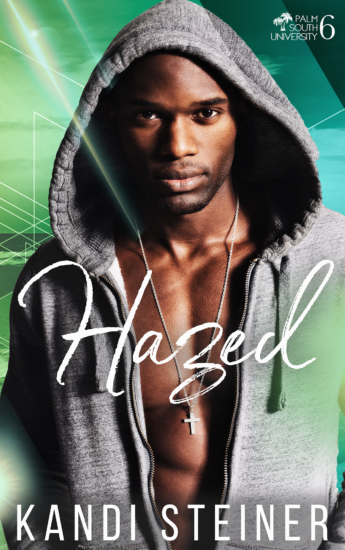 Details
Series:

Palm South University

Release Date:

March 25, 2021

Format(s):

Paperback

eBook

You'll Love This If You Love:


college romance, new adult romance, bisexual romance, CEO/intern, unrequited love, love triangles, angst, drama, guilty pleasure, quick-paced reads, binge-worthy TV series, teacher/student
Hazed
Half the crew is back at Palm South.
The other half has graduated.
Jess, Ashlei, and Erin move downtown together after graduation. While Ashlei recovers from heartbreak and makes a new plan of attack, Erin is trying to survive law school — and her new relationship. And after the explosive season finale of Ritual, Jess has found herself in quite the pickle.
Meanwhile at PSU, Bear and Adam are in their final semesters, which means one last Spring Break to rule them all. That's not the only thing on Bear's mind, though — not after he has a realization that changes everything. And while Adam and Cassie are finally back on track, their next chapter may not be as easy.
Skyler and Kip are back together after a semester apart, but while they expected a fairy tale ending, a newcomer might throw a wrench in their plans.
Hazed has it all: Angst, Drama, Love, Lust, Heartbreak, Hope, Secrets, Lies and twists galore. The best dang college series to ever not hit my screen.

— Stital, Goodreads
I LIVE for these books! They are fast-paced, and full of so much tension, angst and drama! I am constantly left guessing and wondering who will get a HEA, and who may be left hurting.

— Carly Wilson, Goodreads
If you haven't started the PSU series and are a fan of drama, angst, friendship and love well then what are you waiting for?Start this amazing series because it's my favorite addiction!

— Patricia, Words We Love By Book Blog