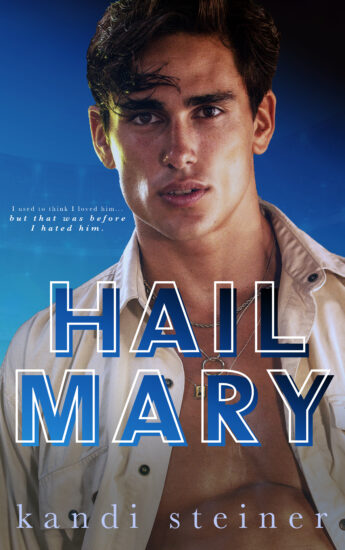 Details
Series:

Red Zone Rivals

Release Date:

February 15, 2023

Format(s):

Paperback

eBook

Audio Book

You'll Love This If You Love:


sports romance, enemies to lovers, forced proximity, roommates, neighbors to lovers, second chance, college romance
Hail Mary
Leo F*cking Hernandez.
North Boston University's star running back, notorious bachelor, and number one on my people I would murder if I could get away with it list.
And now?
He's my new roommate.
I used to think I loved him.
But that was before I hated him.
He doesn't remember who I am, or how he made my life miserable for years. And before I unknowingly moved across the street from him, I couldn't have cared less. I was living my life despite him and what happened that summer, chasing my dream of becoming a tattoo artist.
"The Pit," as the university so gracefully nicknamed the house he lives in with three other football players, has served as nothing more than a pain in my ass and a constant reminder of the boy who broke my heart. Watching him parade his one-night-stands in and out of it never helped, either.
But with rent this cheap and so close to the tattoo shop, I've learned to ignore him — no matter how he's tried to get under my skin.
At least, until this summer. Because when a water and mold disaster leaves me with no choice but to vacate my house, I have nowhere to go. And Leo Hernandez offers me a deal I can't refuse.
Live at The Pit with him and the guys, free of charge, until my landlord fixes this mess.
Ignoring him was easy when I lived across the street, but in the same house, with him shirtless half the time and watching me with his cocky grin and searing gaze? It's impossible.
Still, I have to try. I have to push him away, even when he makes it infuriatingly difficult to do so.
He's broken my heart once.
I won't let him do it again.
Hail Mary is a NEXT LEVEL second chance romance! The history, the friendship, the deep connections, THE LOVE…in typical Kandi fashion, she makes you feel EVERY. SINGLE. THING. This book is EMOTIONAL and RAW and SEXY and… EVERYTHING I look for in an EPIC ROMANCE! I wish I could give this more than five stars! Ahhh… the Red Zone Rivals series goes down as one of my all time favorite series and Hail Mary is a TOP READ of 2023 for me! Highly, highly, highly recommend!

— Laura Pavlov, USA Today Bestselling Author
Spicy sports romance done right! The queen of angsty romance does it again. Hail Mary was the perfect ending to an unforgettable series. When it comes to Mary & Leo, you'll feel every real, raw emotion until the dramatic and heartwarming ending. I'm still swooning! Infinity stars.

— Bestselling Author Lena Hendrix
This is Kandi Steiner at her finest. Hail Mary is the perfect conclusion to the Red Rivals series, and these characters will always have a part of my heart.

— Bestselling Author Maren Moore