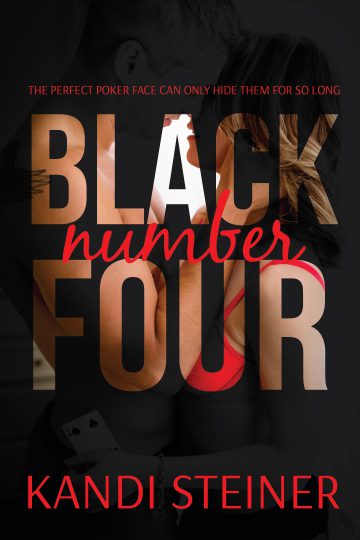 Details
Release Date:

April 4, 2015

Format(s):

Paperback

eBook

Audio Book

You'll Love This If You Love:


college romance, new adult romance, sports romance, angst
Black Number Four
Known as one of the youngest and most ambitious poker players in the country, Skyler Thorne has a reputation to uphold in Vegas this year. Her sole focus for spring semester is to perfect her game and get tournament ready – and have some fun with her sorority sisters, of course. Meeting a care-free pledge with incredible arms adds a whole new element of fun to her semester, but when a shocking discovery about his past surfaces, Skyler finds herself stuck in a game she wasn't prepared to play.
Kip Jackson is on a mission from his father. His plan was to get in, have a little fun, and then get out – on to bigger and better things. A feisty girl with bright blue eyes wasn't on his list of things to do, but she quickly moves her way up to the very top. When he realizes completing his dad's mission means crushing her in the process, he must decide if his dreams are worth the risk – or if he even has the same dreams, at all.

Two secrets. Two hearts. Two hands being played in one twisted game of deceit.

When the cards are on the table, will anyone be left standing?

The perfect poker face can only hide them for so long.
Black Number Four is exclusive to Kindle and is available on Kindle Unlimited
Beautiful and challenging… Kandi Steiner had me completely wrapped up!

–– Steph Nuss, author of the Love in the City Series
This is one of those books that will crush you before slowly putting the pieces back together.

–– Maegan Abel, author of The Broken Series
Intriguing, powerful, and unforgettable.

–– Cassie Graham, author of The Truth of a Liar