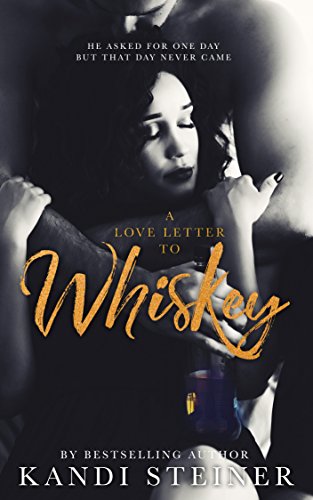 Details
Release Date:

September 25, 2016

Format(s):

Paperback

eBook

Audio Book

You'll Love This If You Love:


angst, friends-to-lovers, romantic sagas, new adult romance, college romance, emotional romance
A Love Letter to Whiskey
AN AMAZON TOP 60 BESTSELLER
It's crazy how fast the buzz comes back after you've been sober for so long.
Whiskey stood there, on my doorstep, just like he had one year before. Except this time, there was no rain, no anger, no wedding invitation — it was just us.
It was just him — the old friend, the easy smile, the twisted solace wrapped in a glittering bottle.
It was just me — the alcoholic, pretending like I didn't want to taste him, realizing too quickly that months of being clean didn't make me crave him any less.
But we can't start here.
No, to tell this story right, we need to go back.
Back to the beginning.
Back to the very first drop.
This is my love letter to Whiskey. I only hope he reads it.
A Love Letter to Whiskey is exclusive to Kindle and available on Kindle Unlimited
Ten stars for this brilliantly written love story. It's raw. It's real. It's flawed. It's simply perfection.

— New York Times Bestselling Author Kim Karr
A Love Letter To Whiskey starts out with a slow burn, but before you know it you are intoxicated and unable to stop until you reach the end. Once you hit the end, you are completely drunk in love with Steiner's words. Her best work to date and my favorite read of 2016.

— Brittainy C. Cherry, Amazon #1 Bestselling Author
You will savor Whiskey to the very last drop, and the hangover will be worth every heart-wrenching second. Steiner's writing is as smooth as scotch, as heady as whiskey, with a sweet afterburn that will leave you addicted.

— Bestselling Author Staci Hart