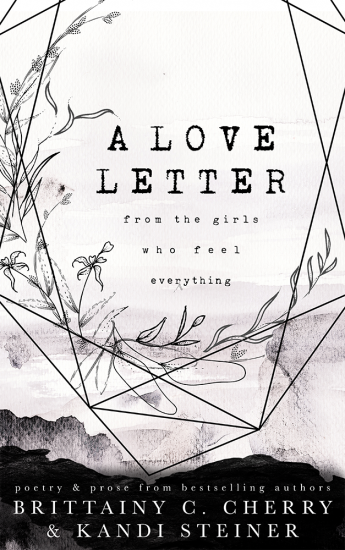 Details
Release Date:

September 13, 2018

Format(s):

Paperback

eBook

You'll Love This If You Love:


poetry, angst, self-discovery, healing, chick-lit
A Love Letter from the Girls Who Feel Everything
Bestselling authors Brittainy C. Cherry and Kandi Steiner come together for the first time in an emotional compilation of poetry and prose. Written and collected over the course of more than two years, A Love Letter from the Girls Who Feel Everything is an intimate, honest, and raw assemblage of two women's feelings in a modern world that often quiets any kind of emotion past indifference.
Discussing themes of love, worth, loss and hope, A Love Letter from the Girls Who Feel Everything is a journey of discovery and healing.
"We are the girls who feel everything.
And this is our love letter. To you, to them, to us, to the world, to no one at all. Whether it's the brightest, sunniest day where everything is perfect, or the darkest, dreariest night of rain where life seems unbearable — we have lived it, we have survived it, and we have felt every, blissful, aching second.
Here's to embracing the feels, to the brave souls that listen to the way their hearts beat and aren't afraid to ask someone else if they feel those same beats, too. Here's to the girls, the boys, the love we sometimes share and the love we all-too-often conceal.
And more than anything, Reader — here's to you."
A Love Letter From the Girls Who Feel Everything showcases the elegant brilliance, delicate vulnerability, and mighty self-worth that all women aspire to embody. I will treasure this gorgeous little paperback, the inspiration it gave me, and all the sticky notes I placed between its pages, forever.

— BB Easton, author of 44 Chapters About 4 Men
Honest and emotionally lyrical, A Love Letter From the Girls Who Feel Everything examines love's beginning and beyond, after it unravels. A beautiful, raw read.

— J. Daniels, New York Times Bestselling Author
Kandi Steiner and Brittainy Cherry separately are rockstars, but together, they're an unbeatable duo. I still can't put into words everything this book made me feel. These poems are so raw and gorgeous and real. They're everything it means to be a woman, and they'll give you all the feels.

— Parker S. Huntington, author